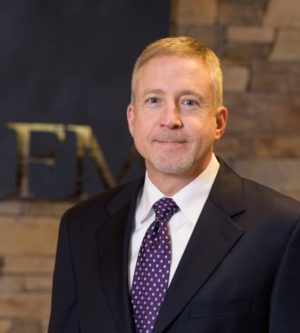 Longview, TX Office
2020 Bill Owens Parkway, Suite 200
Longview, Texas 75604
bbunt@freemanmillspc.com
p: (903) 295-7200
f: (903) 295-7201
Brian L. Bunt
Partner
Brian L. Bunt is a native of Longview, Texas. He attended Texas A&M University, receiving his B.A. in Political Science in 1986. He obtained his law degree from Baylor University School of Law, where he was a member of the National Mock Trial Team and named a moot court top-ten speaker.
Following law school, Mr. Bunt joined the firm of Roberts, Hill & Calk, in Longview, achieving the rank of partner. During this time, he practiced in the areas of commercial litigation, personal injury, employment law, charitable organization defense, and general civil litigation. In 1997, Bunt co-founded his own law firm focusing his practice on representation of companies, individuals, churches, and schools in complex litigation matters. He maintains an active insurance defense and transportation industry defense docket, and also serves as a mediator in all types of contested civil disputes. In 2009 Bunt Law Firm became part of Freeman Mills PC.
Bunt is board certified in civil trial advocacy (National Board of Trial Advocacy) and personal injury trial law (Texas Board of Legal Specialization). Bunt has extensive experience in the state and federal courts of Texas. He has tried numerous cases to jury verdict, representing both plaintiffs and defendants. Over the years, Mr. Bunt has achieved remarkable success in defending lawsuits, receiving a summary judgment (or similar no liability or damages dismissal) in approximately 20% of his cases.
Bunt carries an "AV Preeminent" rating with Martindale Hubbell peer review rating service. In 2002, Bunt was awarded the status of Senior Counsel in the American College of Master Advocates and Barristers. Bunt is a Certified Mediator, having received his training from the National Mediation Academy in 2003.
PUBLIC SERVICE
Gregg County Bar Association (President 1999)
Texas A&M University Dept. of Political Science Advisory Board (Chair 2007)
Longview Partnership Chamber of Commerce (Board Member 2006-2008)
Hiway 80 Rescue Mission Board (President 2017-2018)
City of Longview Metropolitan Planning Organization Advisory Board
LeTourneau University Belcher Center Advisory Board
REPORTED CASES
Oscar Wardon Still, et al. v. Eastman Chemical Co., et al., 170 S.W.3d 851, 2005 LEXIS 6482, (Tex. App.–Texarkana 2005).
Lawanda Woolridge v. East Texas Baptist University, 154 S.W.3d 257, 2005 LEXIS 182 (Tex. App.–Texarkana 2005).
Dwayne and Karen Lynch v. Pruitt Baptist Church, et al., 2005 Tex. App. LEXIS 6772 (Tex. App.–Tyler 2005) rehearing denied 2005 Tex. App. LEXIS 2463.
Eastman Chemical Co. v. Niro, Inc., 80 F.Supp.2d 712 (S. D. Tex. 2000).
Janice Liner v. John D. Parker and Trans-Texas Homes Corp., 1999 Tex. App. LEXIS 1927 (Tex. App.–Texarkana 1999).
Panola County Appraisal Review Board v. John Pepper, 1996 Tex. App. LEXIS 4672 (Tex. App.–Texarkana 1996).
Celia Godinet v. Georgia Thomas, M.D., 824 S.W.2d 632 (Tex. App.–Houston [14th Dist.] 1991).